NEAR E 296 B / 596 B: Special Studies In Near Eastern Languages And Civilization
Welcome to 'An Introduction to Digital Humanities', a survey course intended to introduce you to concepts, methodologies and ongoing projects in this relatively new field. No previous knowledge/prerequisites are necessary. We'll be exploring selected textual material through the lens of digital technologies, learning how we can use freely-available open source tools to explore and display content, images and maps.
Featured Item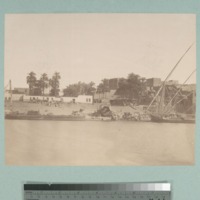 Panoramic view of the city of Aswan, Egypt. Andrews visited the town from February 10-14, 1901, and described it as unbearably hot and "unattractive."
Featured Collection
Hotels and lodgings mentioned by Emma B. Andrews in volume 8 of her diaries
Featured Exhibit
Hello! We are Group 3 for NEAR E 296 B Winter Quarter.